Our GYM EXPERT  aims to create awareness in the importance of education towards Bodybuilding, Fitness Trainers & Health Club Operators Worldwide.The project is owned by the Global Fitness & Health Consultancy LTD (GFHC ACADEMY) The  exam  is based on 50 questions (test)  with answer options from ''A'' to '' E'' Each question counts as 2 points, the participant receives  an actual certificate made out to his/her name only if  70 points  out of this exam is achieved. Exam has 50 questions with backgrounds of; 6 History, 17 industrial, 8 First aid, 19 Technical questions.
 Terms of the Exam Program: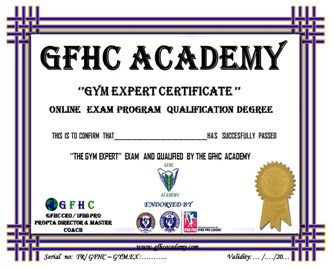 1)        Individuals take  the exam with a fee of  $ 100 price. 
2)        If the exam is not passed various attempts are acceptable with in a time frame. The individual needs to pass the exam within a week after the purchasing date.
3)        If the individual cannot make it happen in a week time, the system delete the candidates exam enrollment and there for a secondary charge will be required.     
BENEFITS Of  ''GYM EXPERT EXAMINATION'' PROGRAM
Internationally Recognised Prestigious Certificate

Intensifier & Comprehensive Online Test  Methodology

Utmost Flexibility In Attendingexam  (timing)

Developed Industrial Awereness

Developed Proffesional Skills

More Ownership & Self Confidence

Clinching The Fact of Job

Being Able To Analayse More Information

Gaining Proffesionalism

Learning The Proffesional & Technical Language Of  The Job

Improved Membership Sales And Productivity